Site views: 1443466
9/3/2020, book updated:
- Goi.bin 389 MB
- Goi.ctg 1.23 GB - positions 18.773.469
8/13/2020, book updated:
- Goi.bin 353 MB
- Goi.ctg 1.04 GB - positions 16.733.773
7/17/2020:
- Goi.bin 319 MB
- Goi.ctg 1 GB - positions 14.596.133
September, 4 2020: In this update many lines for Black for the Semi-Slav and the Four Knights Opening have been fixed, plus alot of games have been added.
By now the lines for any opening up to the 10th move are so accurate that I can tell this book is not anymore only adviced for blitz games but for correspondence chess too, if you strictly follow the green moves (CTG version). In facts I have checked them and fixed them for years versus the strongest opponents books and players using a serie of always more powerful tools; the last one in this list is the stabels monster machine with the newest Stockfish and 126 threads.
I feel pretty confident to tell that the BIN version is slightly stronger because of a Fritz crazyness in which the interface makes move the engine unaccordingly to the book, while its Polyglot counterpart is directly connected to the UCI engine, therefore it forces to move with its variants. The BIN book in Droidfish is also slightly better on the first move for White as it shows the correct percentage, unlike the CTG one (this issue is present only in the White first move anyway, just set Book Randomization to 50% if you have the CTG version and you are good to go).
Book stats: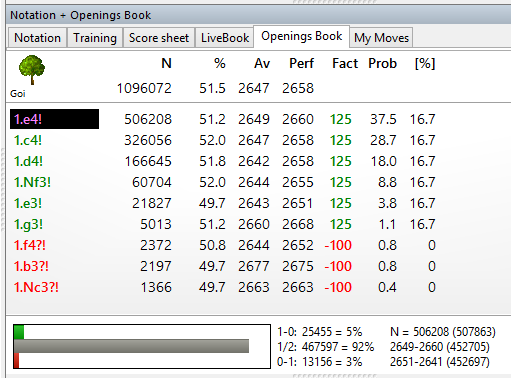 Move #1 stats:
Combo Goi.ctg + Goi.bin: 50$.
You can pay directly with your credit card WITHOUT creating a Paypal account: HOW TO PAY WITH PAYPAL WITHOUT CREATING A PAYPAL ACCOUNT.
Goi opens 1.c4 (English opening - A10), 1.e4 (King's pawn opening - B00) and 1.d4 (Queen's pawn opening or Queen's pawn game - A40) as White, 1 ...e5 to 1.c4 (English opening - A20), 1 ...e5 to 1.e4 (King's pawn game - C20), 1 ...Nf6 to 1.d4 (Queen's pawn game - A45), 1 ...Nf6 to 1.Nf3 (Reti opening - A05), 1 ...e5 to 1.g3 (Benko's Opening - A00), 1 ...e5 to 1.b3 (Nimzovich-Larsen attack, modern variation - A01) and 1 ...d5 to 1.f4 (Bird's opening - A03) as Black.
I've considered the Sicilian defense not enough productive as Black because the book received too many losses and the positional evaluation score was too high for the White right from the start.
Frequent asked questions:
⁃ "I bought your book but I keep to get draw on MPL" :
By now the environment is saturated and almost all the players have my book or other top books... The times of winning with the free Goi 5.1 GOLD are way gone now. So if you are planning to buy the Goi book to get only wins, well this is not the case!
⁃ "I get losses with your book, it's not that strong":
Well, that depends by two factors: you have a weak hardware (like a smartphone) or you've ended up in a book weak line... The best thing to do in this case is sending the lost games to me (if they are many) to get a corrected version of the book.
⁃ "I'm poor, can I have Goi for free?":
NO! Would you get a job in which you are not paid? Please consider that I spent alot of time and energy working behind the book, my back always hurt for all the hours I'm sat to the desktop working on it and I'm getting eyes issues. Should I do this without getting paid with S-holes pretending to be poor who will even share my work on file sharing sites preventing me to get a payback for it?? NO!! I'm not a rich person too. At least it's more guaranteed you'll not go sharing Goi somewhere if you pay the price. I don't consider myself a professionist though, more like a semi-professionist as this is a part-time job.
⁃ "What is the correct hashtable size I should use with your book?":
This has been discussed many times before... The hashtable size is related only to the strength of your processor, therefore it's a subjective matter, see this video for detailes informations:
How to properly set the hashtable on Chessbase products
Last but not least, DO NOT SHARE THE BOOK LINKS I SEND YOU WITH ANYONE ELSE OR YOU WILL GET BANNED FROM ANY FURTHER PAYMENT ON THIS SITE.
- - - - - - - - - - - - - - - -
DELIVERY TIME: FROM 1 MINUTE (IF I AM AT THE COMPUTER) TO 12-13 HOURS. PLEASE PROVIDE A VALID E-MAIL ADDRESS ON PAYPAL WHEN YOU MAKE THE PAYMENT AND I WILL SEND THE LINK TO THAT E-MAIL. IF YOU MAKE A PURCHASE AND YOU HAVE A GMAIL, HOTMAIL OR YAHOO E-MAIL ACCOUNT CHECK ALSO IN YOUR SPAM FOLDER FOR THE LINK E-MAIL
With this option you will get all the books since the beginning, it's more indicated to collectors and/or those who want to analyze the growing of quality of the books and the different used techniques. You will get also a detailed sheet describing all the methods to build them, the changing of technique and the motivation bringing me to switch from an edition to another. It's a total worth of 8.53 GB of software.
Inside the package you will get: Goi 1 BIN, Goi 2 BIN, Goi 2.1 BIN, Goi 2.2 BIN, Goi 2.3 BIN, Goi 3 BIN, Goi 3.1 ABK, Goi 3.1 BIN, Goi 3.1 CTG, Goi 3.2 BIN, Goi 3.2 CTG, Goi 4 CTG, Goi 4 BIN, Goi 4.1 CTG, Goi 4.1 BIN, Goi 4.2 CTG, Goi 4.2 BIN, Goi 4.3 BIN, Goi 4.3.1 CTG, Goi 4.3.1 BIN, Goi 4.4 BIN, Goi 4.4 CTG, Goi 4.4 BIN update 1, Goi 4.4 CTG update 1, Goi 4.4 BIN update 2, Goi 4.4 CTG update 2, Goi 5 ABK, Goi 5 BIN, Goi 5 CTG, Goi 5 GOLD, Goi 5.1 BIN, Goi 5.1 CTG, Goi 5.1 BIN update 1, Goi 5.1 CTG update 1, Goi 5.1 CTG update 2, Goi 5.1 CTG update 3, Goi 6 BIN, Goi 6 CTG, Goi 6.1 BIN, Goi 6.1 CTG, Goi 6.2 BIN, Goi 6.2 CTG, Goi 6.2.1 BIN, Goi 6.2.1 CTG, Goi 6.2.2 BIN, Goi 6.2.2 CTG Goi 6.2.3 BIN, Goi 6.2.3 CTG, Goi 060620, Goi 210620, Goi 090720, Goi 170720, Goi 130820, Goi 040920.
- - - - - - - - - - - - - - - -
Settings for the CTG format:
Settings for the BIN format:
BestBookMove: Off.
BookDepth: 30-40 for very strong harware (like 64 cores), 50 for medium hardware (average quadcore or sixcore) or 60 for weak hardware (cheap quadcore or weaker processors).
I WON'T BE RESPONSIBLE FOR AN IMPROPER USE OF THIS BOOK OUTSIDE THESE SETTINGS.